Special K Pastry Crisps Blueberry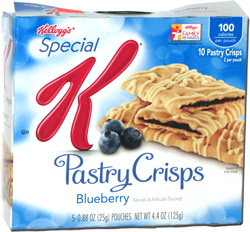 Taste: This edition of Pastry Crisps had a similar look to the strawberry version, with two bars stacked on top of each other in each 100-calorie pack, with a light beige pastry dough exterior and wiggles of frosting on top. The filling, which could be seen through the ends of the bars and through holes on top, was of course darker and bluer than the strawberry ones. I crunched in to find lots sweet (but not too sweet) blueberry taste, so it was quite good. I had this with some cold milk, and it made an excellent combination.
Shop: Buy snacks at Amazon.com
Aroma: Smells like blueberry pie. Nice!
Complete guide to Special K

• All Special K (18 snacks)

More snacks like this

Manufacturer

Kellogg Company

Online store: Buy snacks at Amazon.com






From the package

"10 pastry crisps 2 per pouch" ... "The taste of fresh blueberries in a delightfully crispy pastry. Enjoy two delicious Special K® Pastry Crisps for 100 calories ... and say yes to your sweet tooth."