Sunflower Crackers Orange Cream Sandwich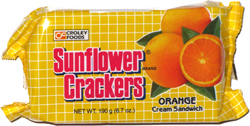 Taste: This snack was named a bit confusingly, as I assumed at first that it was made from sunflower seeds. But when I saw the word "brand" in small type next to the word Sunflower, I checked the ingredients and found that Wheat Flour was the first ingredient. Maybe it had Sunflower Oil? Nope, some other kinds of oil (Coconut, Palm and/or Palm Kernel) but not Sunflower. So Sunflower was just a name. I opened the package to find that it contained a stack of large sandwiches, each measuring about 2 inches by 3 inches, with a Saltine-like appearance. I crunched in to find that the crackers did indeed feel like Saltines, but without the salt. In between the crackers was an off-white filling with a sweet, mild orange taste. Pretty good.
Shop: Buy snacks at Amazon.com
Aroma: Good orange smell. Like orange peel, sort of.