Po Teau Cracker Cheese Flavour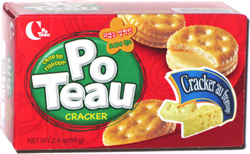 Taste: This box contained three red foil packs, each containing four round, smallish cracker sandwiches. The crackers looked a lot like Ritz. I crunched in to find a nice crumbly, soft feel and sweet, buttery taste from the crackers, followed shortly after by a mildly tangy cheese flavor. The combination tasted quite good. We've eaten and reviewed a lot of cracker sandwiches, and these were some of the better ones. The mix of cheese and crackers didn't try to anything fancy here, but it just tasted good. I quickly gobbled through the four sandwiches in the first pack, and I could easily eat my way through many more.
Shop: Buy snacks at Amazon.com
Aroma: Strong cheese smell, like Cheez Whiz.