Lance Whole Grain Crackers Real Cheddar Cheese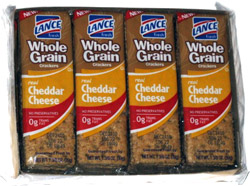 Taste: These cracker sandwich packs followed the usual formula of six square cracker-and-cheese sandwiches in each wrapper, but they broke the formula by using whole-wheat crackers and a very light color of cheddar rather than a glowing orange cheese. It worked quite well, as these sandwiches were very tasty. The crackers were flavorful and mixed well with the thin layer of cheese. Even more cheese would have helped, but I still liked these a lot.
Shop: Buy snacks at Amazon.com
Aroma: Smells like wheat crackers, nothing special.