Lance Bolds Cracker Sandwiches Buffalo Wing Blue Cheese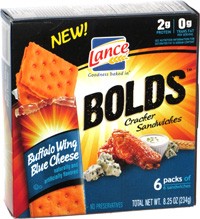 Taste: These cracker sandwiches looked a lot like peanut butter cracker sandwiches, as they had bright orange crackers with a lighter orange/brown filling. But those were just looks, as we crunched in to confirm that they were indeed Buffalo wing and blue cheese flavored. The sandwiches followed the standard format of six square sandwiches per pack, with six packs in the box. The flavor really hit the mark, a spot-on match for Buffalo wing sauce and blue cheese, with even some heat, The heat even stayed around for a hot aftertaste too. Very tasty!
Shop: Buy snacks at Amazon.com
Aroma: Mild blue cheese and hot sauce smell. Nice.