Cheez-It Sandwich Crackers Classic Cheddar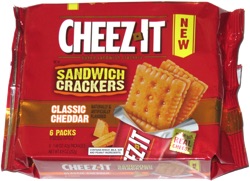 Taste: With the other two flavors of Cheez-It sandwiches, Italian 4 Cheese and Spicy Queso, they tried to get fancy. But with this Cheddar one, the Cheez-It folks kept it pretty basic, and the result was still good.
Everything followed the popular formula for cracker sandwiches, with six square sandwiches per packet, filling the oversized Cheez-Its sandwiches with an orange cheese (or should we say cheez?) layer. The package contained six packets. There was a good crumbly feel from the crackers and a very nice sharp cheddar taste from the filling. The result was better than your average cheese cracker sandwich, once again worthy of the Cheez-Its name.
Shop: Buy snacks at Amazon.com
Aroma: Strong sharp cheddar smell, like Cheez Wiz