Lance Captain's Wafers Jalapeño Cheddar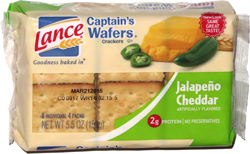 Taste: This snack broke from the usual cracker sandwich formula of having six sandwiches per pack, but otherwise it was fairly standard, with just four of the usual size sandwiches per pack. There were six packs in the package.
The square crackers had a pattern of holes and a salmon-colored filling that spilled out the edges in places and showed through the holes.
I crunched in to find a nice crumbly feel to the crackers, with a soft filling that had a mild cheddar and jalapeño flavor. There was some heat, but not lots of it, and a mild aftertaste, also just slightly hot. Pretty good.
Shop: Buy snacks at Amazon.com
Aroma: Good fresh jalapeño smell, fairly strong.