Ülker Çokoprens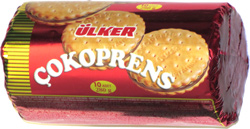 Taste: This tube contained fairly large cookie sandwiches, each consisting of large two round beige cookies, three inches in diameter, enclosing a chocolate filling. The texture of the cookies was surprisingly light, soft and crumbly, though still crisp and not bendable. The combination of cookies and rich chocolate filling was a big hit among our tasters as they enjoyed some beers after a run. People were eager to grab a cookie from the tube and then quite happy with the who experience once they crunched in. Beware of the crumbs, as these made lots of them!
Shop: Buy snacks at Amazon.com
Aroma: Smells like those chocolate wafer cookies.