Tuxedos Double Filled Chocolate Sandwich Cookies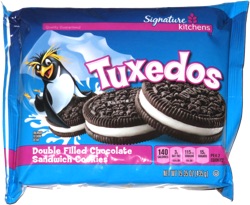 Taste: These Oreos knockoff sandwich cookies had a floral-type pattern on their outside surfaces, a different pattern from Oreos — and also a different one from the cookies depicted on the package, as the actual cookies lacked the "TUXEDOS" name shown in the picture. They did have quite a lot of filling, living up their "double filled" description.
I bit in to find that the taste was quite creamy, but the cream seemed noticeably sweeter than Oreos. The taste wasn't bad, but it wasn't as good as Oreos, and there was less chocolate taste. The texture was less crumbly, which could be a good thing if you don't like crumbs, or a bad thing if you really like the texture of Oreos.
Shop: Buy snacks at Amazon.com
Aroma: Seems a lot creamier than Oreos, but still some chocolate.