Sophia's Chocolate Chip Cookies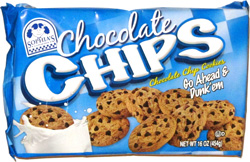 Taste: This box was loaded with lots of chocolate chip cookies, each about 2 inches in diameter. Most of the cookies had quite a few chocolate chips jutting out of the top, though the chips were fairly small, and they weren't distributed as evenly as the pictures on the package showed.
The cookies were your typical packaged non-soft chocolate chip cookies, with a pretty good taste. They were nothing approaching fresh-baked cookies, but they gave me a decent chocolate kick and went well with some cold milk.
Shop: Buy snacks at Amazon.com
Aroma: Mild chocolate chip cookie smell. OK.