Parrot Brand Cinnamon Milk Sandwich Biscuits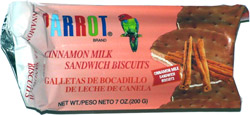 Taste: These round cookie sandwiches were wide, at over two inches in diameter, and about as thick as an Oreo. They didn't resemble the picture on the package much, as the actual cookies were light beige, versus the brown ones shown. We crunched in to find a nice soft crunch from the cookies, plus a very tasty hit of sweet cinnamon from the white creamy filling. They were really, really good. Mmmmm!
Shop: Buy snacks at Amazon.com
Aroma: Smells like Hot Tamales. Great.