Paris Filled Tea Biscuit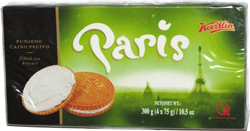 Taste: This box contained four separately wrapped packages of four sandwich cookies each, for a total of 16 cookies. (Math lesson over.) Each round cookie sandwich was about the same thickness as an Oreo (or just a bit thicker) but noticeably wider, at about 2-1/4 inches in diameter. The cookies had a grid pattern on their exteriors, with a large Koestlin logo in the middle. We peeled open the wrappers and crunched in to find that the cookies were pretty tasty, with a strong vanilla flavor and a smooth creme filling. Nothing special or particularly Parisian about them, but they were good cookies.
Shop: Buy snacks at Amazon.com
Aroma: Strong vanilla smell.