Orion ChocoChip Cookies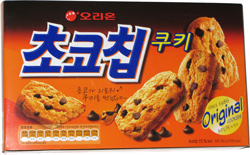 Taste: This box contained two separately wrapped trays of roughly rectangular chocolate chips cookies from Korea. The shape of the cookies made them stand out from just about every other chocolate chip cookies we've ever seen, but otherwise, they were pretty ordinary. They were crunchy and kind of brittle with a good taste, but nothing special here. We got these at our favorite Korean supermarket, but really they didn't taste any different or better than your average store-brand chocolate chip cookies.
Shop: Buy snacks at Amazon.com
Aroma: Mild, but a good chocolate smell.
From the package
"since 1986 original cookies"
Share your comments on this snack here. For general snack discussion, please visit our Chip Talk forum