Oreo Thins Salted Caramel Crème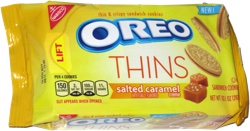 Taste: This version of Oreo Thins had the same slim form factor as the other varieties (now totaling six) and used the same cookies as the Golden and Lemon ones. The difference here was the filling, which had kind of a dull caramel color.
I crunched in to find the usual nice texture — the light crunch of the Thins is really growing on me — along with a nice mildly sweet, just slightly salty caramel taste. Very good.
Shop: Buy Oreos at Amazon.com
Aroma: Nice caramel smell.