Oreo Fudge Cremes Coconut Delight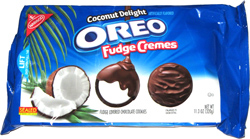 Taste: Like the other varieties of Oreo Fudge Cremes that we've reviewed (mint, peanut butter, birthday cake and original), each of these cookies consisted of a single Oreo cookie rather than a sandwich, with creme filing on on side, all coated in fudge. The package contained a tray that left a large gap between cookies, but they still managed to fit 28 of them inside, so that was OK. From the outside, the cookies looked the same as the other kinds. We crunched in to find a strong kick of coconut in the creme filling, with none of the dreaded coconut texture. There was plenty of chocolate and creme to taste as well, but the coconut dominated. Pretty good.
Shop: Buy Oreos at Amazon.com
Aroma: Fairly strong coconut smell.
Share your comments on this snack here. For general snack discussion, please visit our Chip Talk forum