Candy Corn Oreo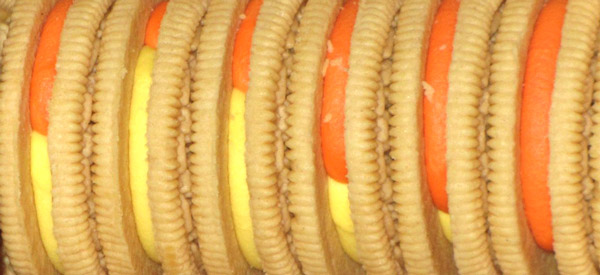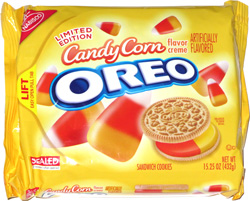 Taste: This special version of Oreos consisted of light yellow/beige cookies with the same surface design as regular Oreos and a filling that was a 50/50 split of bright orange and yellow.
We crunched in to find something similar to the usual Oreo crunch, but maybe a little less brittle and crumbly, with a very sweet filling. We shared these with a large group of snackers, including some who like candy corn, some who dislike it and some who are indifferent. Most people liked the taste, though there were a few complaints about excessive sweetness. There was lots of disagreement on whether the cookies matched the candy corn taste. Some people thought it was spot-on, while others couldn't taste the connection. One taster who said she's a big fan of candy corn liked the taste a lot and thought it really was like candy corn.
Shop: Buy Oreos at Amazon.com
Aroma: Not like Oreos. Not like candy corn either. Kind of like very sweet cookies.