Back to School Oreo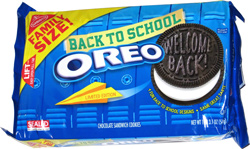 Taste: When I was in school, it always annoyed me to see all sorts of "Back to School" sales during the summer, long before school was really going to start. Can't they just let us enjoy our summer without reminding us about school? But I guess if you're going to remind me about school, it might as well be on the outside of an Oreo that I'm eating.
In these limited-edition Oreos, one face of each sandwich had the standard Oreo design, while the other rotated among four different designs, only one of which was specially a "Back to School" message. One said "Welcome Back!" while another said "Go Team!" and the final one had the word "Oreo" on a bullhorn. All of them tasted like regular Oreos.
One nice touch was that the front of the package showed a paper airline, because one thing that I do remember fondly about school was building lots of paper airplanes.
Shop: Buy Oreos at Amazon.com
Aroma: The usual Oreos smell. Nice.