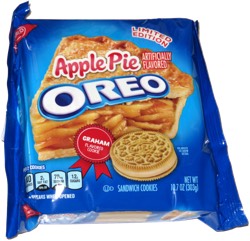 Shop for snacks: Buy Oreos at Amazon.com
Taste test: This latest limited-edition Oreo flavor promised a taste as American as apple pie. In fact, it actually promised the taste of apple pie! The cookies had a color similar to Golden Oreos, though the package said they were graham-flavored, and the filling wasn't too far off from the cookies in color, but it kind of looked like peanut butter.
I crunched in to find a nice mildly sweet graham taste from the cookie and a very sweet apple taste from the filling. Maybe too sweet. It certainly tasted like apple something, but the flavor didn't really say "apple pie" to me. The contrast between the cookies and the filling was probably supposed to work like the pastry and sugary apple in an apple pie, but it just didn't quite work.
Unfortunately, after shifting package sizes back to 12.2 ounces for some recent limited editions, they went with the 10.7-ounce package for this one. So less Apple Pie Oreos for you.