Milka & Chips Ahoy!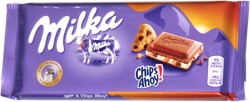 Taste: This large chocolate bar had the same 5x3 grid as the Oreo Milka, with a filling that in this case tried to bring the taste of a Chips Ahoy cookie in between the milk chocolate top and bottom. The center looked kind of like cookie dough, with some cookie bits or chocolate chips visible, but not a lot of them.
I tried a few sections to find that there was a hint of Chips Ahoy taste, along with an occasional crunch of a cookie bit that did resemble the crunchy version of Chips Ahoy. The taste was less like a chocolate chip cookie than would have been ideal, but it still a good milk chocolate taste.
Shop: Buy snacks at Amazon.com
Aroma: There is a hint of chocolate chip cookie amid the milk chocolate smell.