Market Square Vanilla Animal Crackers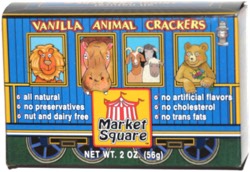 Taste: This box contained a foil bag filled most of the way with cookies that had a light beige color and came in various animal shapes. Despite being protected by the box, most of the cookies were broken to various degrees. Of the ones that were fully intact, the artistic style seemed to vary a lot, as some animals looked realistic and serious, while others were more cartoonish. The dearth of intact animals — and all the small bits of broken cookie — did detract a bit of the enjoyment of the cookies, but the taste was actually quite good.
Shop: Buy snacks at Amazon.com
Aroma: Typical butter cookie smell.