Marilan Amanteigado Coco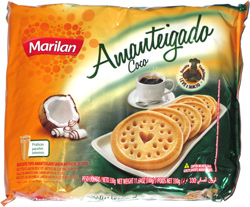 Taste: These round cookies were fairly thick and had many smallish round indentations in their tops, plus a nice heart shape cut all the way through the center. We crunched in to find a nice mix of coconut with the standard butter cookie taste. When we shared these around with a large group of hungry snackers, people were quite impressed by the taste, with many people grabbing additional cookies. The package included three separately wrapped tubes of about 30 cookies each, so there were plenty to go around!
Shop: Buy snacks at Amazon.com
Aroma: Nice mild sweet coconut smell.