Herr's Peppermint Bark Cookies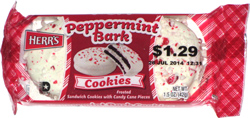 Taste: This package contained two Oreos (or clones of Oreos) coated in white chocolate and then sprinkled on the top and sides with small bits of broken candy cane. $1.29 seemed like a lot for just two cookies, but Herr's did a nice job with these. The cookies had a nice appearance to start with, and when we crunched in, the taste and texture were also quite good. The inner cookie layers tasted like an Oreo, with a soft feel and nice chocolate and creme taste; the white coating added some sweetness; and the bits of candy cane gave the sandwich some mintiness and crunch. The feel wasn't particularly hard like many kinds of peppermint bark, but there were a few sharp edges from the candy cane bits.
Shop: Herr's Online Store
Aroma: Very mild mint smell, but mostly like white chocolate.