Happy Happy Vanilla Strawberry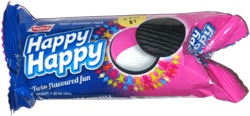 Taste: These sandwich cookies from India followed the same general model as the Vanilla Chocolate version, with a filling that was split between pink strawberry and white vanilla, while still retaining the rippled-exterior same chocolate cookies. The taste was nothing special, but it was good enough — or I was hungry enough — that I ate all eight cookies in one sitting, along with some cold milk.
Shop: Buy snacks at Amazon.com
Aroma: Strong strawberry smell.