Happy Happy Vanilla Chocolate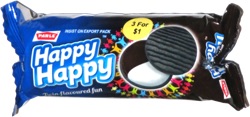 Taste: This pack contained eight Oreo-like sandwich cookies, with the twist being that instead of the all-white filling of Oreos, the filing was split between chocolate and vanilla. (The actual Oreo brand has done something quite similar, with split fillings for some of its limited-edition flavors.) The picture on the label showed the chocolate filling as being a very dark brown or black, but it was actually a fairly light brown, a sharp contrast to the nearly black cookies. The exterior cookie surfaces of each sandwich didn't have fancy patterns, instead just a series of parallel lines, like a rippled potato chip.
I crunched in to find a crunchy, crumbly texture, similar to Oreos but not quite the same, with a lot of chocolate and a bit of contrast from the vanilla portion of the creme. Good with cold milk!
Shop: Buy snacks at Amazon.com
Aroma: Mild chocolate smell.