Haitai Peanut Cookies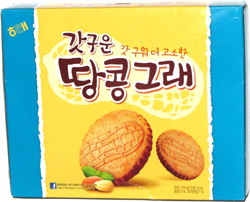 Taste: This box contained nine individual foil packs, and each one held five round cookies. The cookies were fairly thin, with a rippled edge, and there was an illustration of a rather fat-looking peanut etched into the top of each one. We crunched in to find a somewhat crumbly feel, with a a soft crunch, and a mildly peanut buttery flavor. The taste was more butter cookie than it was peanut butter, but there was a reasonable amount of peanut taste. Not as sweet or peanutty as Nutter Butters (and also lacking their filling and sandwich structure) but quite good. Our snackers enjoyed eating these, as people crunched through cookie after cookie.
Shop: Buy snacks at Amazon.com
Aroma: Sweet peanut butter-like smell. A lot like Nutter Butters.
Share your comments on this snack here. For general snack discussion, please visit our Chip Talk forum