Family Gourmet Fudge Covered Cookies with Peanut Butter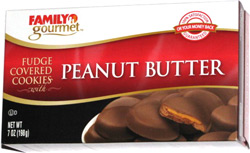 Taste: These round cookies consisted of a fairly thin chocolate cookie, topped with peanut butter and then coated on all sides with fudge. They were really good, with tons of chocolate and tons of peanut butter, a really nice balance. The cookies were quite addictive, so it was hard to stop eating them. Never mind the official serving size of 2 cookies; I always ended up eating a lot more than that many in one sitting.
Shop: Buy snacks at Amazon.com
Aroma: Really good peanut butter and chocolate smell.