Dr. You Diget Choco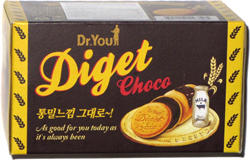 Taste: This fun-to-read box (see "From the package") contained a yellow foil tube filled with large, round, fairly thick cookies. Each one was just under 3 inches in diameter, with a thin milk chocolate coating on one side, and on the other, the Dr. You and Diget logos, plus an illustration of a sprig of wheat. The chocolate coating felt melty on the fingertips, but aside from the potential messiness caused by that, everything about these was really good, as they had a nice soft crunch, plenty of wheat cookie flavor and a nice helping of sweet, tasty chocolate. Our snackers were big fans and ate their way through the whole tube of cookies very quickly. Great!
Shop: Buy snacks at Amazon.com
Aroma: Very mild chocolate smell.
From the package
"As good for you today as it's always been" ... "Wholemeal 11% Choco"
Share your comments on this snack here. For general snack discussion, please visit our Chip Talk forum