Delicje Orange European Biscuits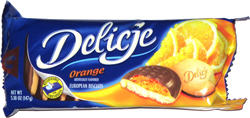 Taste: These round cookies had the Delicje logo on the butter cookie bottom of each piece, with the top covered in milk chocolate, and a pocket of orange in between. Everything had a soft, spongy feel. When we bit in, we found a very soft texture, no crunch, with lots and lots of orange to taste. It was more of a candied orange than actual orange, but it did still taste like orange. The orange overwhelmed the chocolate, so it was hard to notice the chocolate until the aftertaste. Pretty good.
Shop: Buy snacks at Amazon.com
Aroma: Strong smell like an orange peel, with some chocolate on the second whiff.