Chocolate Chip Cookie Dough Bites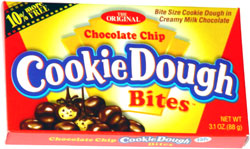 Taste: This box contained smallish blobs that were supposed to be cookie dough with a milk chocolate coating. As most of our tasters have at one time or another eaten actual cookie dough during the course of making cookies, they generally knew what cookie dough tastes like. But they were unanimously unimpressed with these, because it just didn't taste like cookie dough, and most didn't even like the taste. It was very sweet and somewhat chocolatey, and to whatever degree that it did taste like cookie dough, it didn't taste like good cookie dough.
Shop: Buy snacks at Amazon.com
Aroma: Kind of chocolatey but nothing great.