Kreams Bourbon Chocolate Cream Biscuits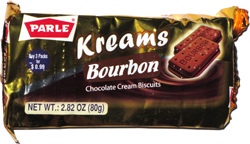 Taste: This box contained a tray holding two groups of four rectangular sandwich cookies each. Each sandwich was rectangular, with the BOURBON name imprinted on the one side of each chocolate cookie, along with two rows of five holes, one row below and one above the name. The filling between the cookies was darker than the cookies. There were also several chunks of sugar on the exterior of each one. Quality control seemed to be lacking, as the side of the cookie with the logo was in some cases facing the outside of the sandwich and sometimes facing inward. In one of the sets, all four sandwiches had both the logos on the outside, while the other set one had the logo facing inward on one cookie and outward on the other. We crunched in to find a light crunch and some very tasty cookies, with a nice moistness from the filling and lots of chocolate. These went well with cold milk, a nice snack!
Shop: Buy snacks at Amazon.com
Aroma: Nice chocolate fudge smell.