Walkers South African Sweet Chutney Potato Crisps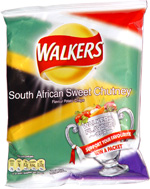 Shop for snacks: Buy potato chips at Amazon.com
Taste: These chips are part of a World Cup Soccer promotion from Walkers, with 15 international flavors (such as English Roast Beef & Yorkshire Pudding) grouped by region into multi-packs, with the individual flavors packaged into unfortunately small bags. This bag contained smallish chips with an orangeish tint to them, with some flavor powder visible in the bag, but not so much on the chips. They tasted quite good, with a nice mix of spices, both tangy and sweet. Our tasters were impressed.
Aroma: Nice strong tangy smell. Could definitely pass for chutney.
Manufacturer: Walkers Snack Foods Ltd. (United Kingdom)
Online store: Buy potato chips at Amazon.com
From the package: "Ingredients: Potatoes, Sunflower Oil (33%), South African Sweet Chutney Seasoning." ... "South African Sweet Chutney Seasoning contains: Sugar, Salt, Flavourings, Mustard Oil, Wheat Gluten, Barley Gluten, Milk Lactose, Dried Onion, Malic Acid, Dried Tomato, Garlic Powder, Dried Orange, Colour (Paprika Extract)."
This snack was discovered by Jeremy at ebay. Review published .