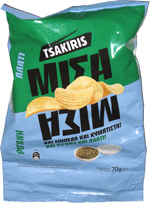 Shop for snacks: Buy potato chips at Amazon.com
Taste test: Usually when you get a bag of potato chips, it contains flat chips or rippled chips. Within those two categories, there are many variations, but still, it's normally an either/or proposition. Not so with this bag of chips!
The oregano-seasoning chips were split about evenly between very narrow-rippled and flat-cut. (I actually noticed the two kinds after I opened the bag and started to eat them. Since I don't speak Greek, the big word MIΣA on the bag was all Greek to me when I initially looked at the bag. Turns out it means "half"!)
Both kinds had a fairly generous level of of dark green seasoning. I crunched in to find a very nice crispness and light crunch (with just a slightly stronger crunch on the rippled ones) with a very tasty mix of oregano and potato. It's rare to find oregano-flavored chips, so we're particularly glad that these ones were so tasty and nicely textured!