Tostitos Fajita Scoops!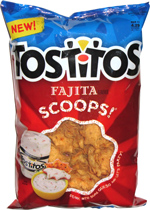 Shop for snacks: Buy snacks at Amazon.com
Taste test: These chips had the same scoop shape as the other Tostitos Scoops, but instead of consisting of just corn and salt, they also included a fajita seasoning. The surfaces generally were yellow/beige in color, with just a slight bit of dark seasoning powder. We crunched in to find a nice solid crunch (crunchier than we expected) and a mild fajita seasoning (milder than we expected). There was something there for spices, with onion most noticeable, but just not terribly much of it. We liked the idea of putting spices onto Scoops, as it could enhance the flavor of whatever you're dipping them into or to add some flavor if you run our of salsa (or just forgot to buy it). But the flavor level was sufficiently low that it wouldn't be all that noticeable in either case. It was a good taste, but we wished that there was more of it.