T.G.I. Friday's Crunchy Fries Extreme Heat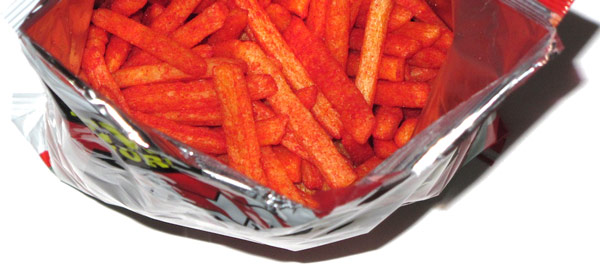 Shop for snacks: Buy snacks at Amazon.com

Taste: These fries looked a lot like Andy Capp's Hot Fries in terms of shape, but they had a brighter orange color, with the light orange base fries covered with varying amounts of intense red seasoning powder. We crunched in to find an excellent texture, as the feel was crisp they soft, not stiff at all, about as good as bagged fries get. There was a nice kick of cheese and a bit of heat in the first bite, then increasing levels of heat after that. They didn't stick to the teeth the way that Andy Capp's tend to. The heat grew to an impressive level as we ate more fries, to the point where it was pretty darn hot. It was not so hot as to completely obscure the cheese, and that was good because the mix of flavors was nice. They promised "extreme" so these might not live up to the expectations of people who do shots of hot sauce, but these fries were very hot.

Shop: Buy snacks at Amazon.com

Aroma: Vert nice spicy cheese smell.



From the package
"T.G.I. Friday's Extreme Heat Crunchy Fries set your taste buds ablaze with the sweet burn you crave!" ... "In here it's always Friday!"
Share your comments on this snack here. For general snack discussion, please visit our Chip Talk forum