Swingchip Hot Pepper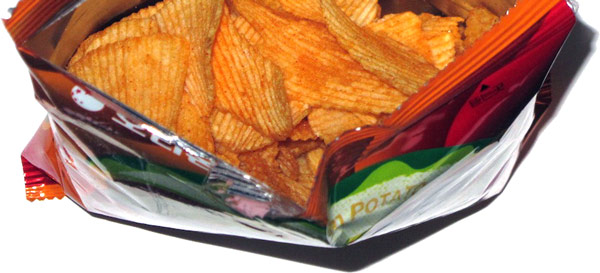 Shop for snacks: Buy snacks at Amazon.com

Taste: This bag of Korean potato chips was filled about halfway with large, unbroken, narrow-rippled potato chips with an evenly applied seasoning for a light orange glow. We crunched in to find a very brittle crunch and a tangy but fairly mild hot pepper flavor. The taste got hotter in the aftertaste, especially in the back of the throat, but these still didn't have a lot in the way of heat. Our snackers had high praise for the tasty mix of peppers and potato as they enjoyed these chips with some beers.

Shop: Buy snacks at Amazon.com

Aroma: Very mild, but sort of like paprika.



From the package
"Green Package" ... "Ingredients: Potato, Vegetable Oil, Korean Hot Pepper Paste Seasoning" ... "Product of Korea"
Share your comments on this snack here. For general snack discussion, please visit our Chip Talk forum