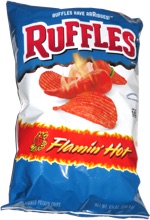 Shop for snacks: Buy potato chips at Amazon.com
Taste test: Frito-Lay has sporadically offered the Flamin' Hot flavor across many of its brands for as long as we've been reviewing snacks — including Lay's, Fritos, Chester's Fries, Munchies, Fritos, Stax Xtra Hot, Funyuns and Chester's Puffcorn, plus a whole array of Cheetos variations: Crunchy, Xxtra Flamin' Hot Crunchy, Puffs, Giant, Baked, Asteroids, Xxtra Hot Asteroids, Bag of Bones, Crunchy with Limón and Cracker Sandwiches — but this is the first time we've seen the flavor under the Ruffles banner.
The chips had gentle curves and medium-width ripples, with an uneven coating of red-orange seasoning, but generally quite a lot of it on each chip. Between all of that color and the Flamin' Hot name, we were anticipating a lot of heat. The bag was filled quite well with lots of large, unbroken chips.
I crunched in to find that the chips had a good crispness and substantial feel, with a nice tangy taste that didn't seem particularly hot, and certainly not for-real Flamin' Hot. There was some heat in the aftertaste, but that's where all the heat was, as even eating several chips in a row (which was easy to do, as they were quite good and not hot enough to slow me down) didn't create heat while eating the chips. Good chips, with a tasty mix of spices and peppers, but only slightly hot, let alone Flamin' Hot.