Quaker Popped Caramel Corn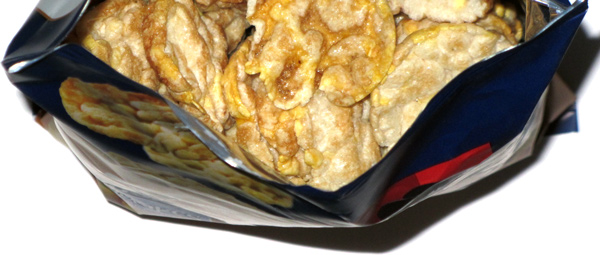 Shop for snacks: Buy snacks at Amazon.com

Taste: The weird thing about this snack was that it was described as "caramel corn" on the bag, but it did not contain any corn. Corn syrup is close, right? Well, maybe not. Anyway, the bag had pictures of many pieces of caramel corn on its entire bottom half, while the very top showed four pieces of what was actually inside: Small, round rice cakes with some sort of caramel flavoring. The pieces looked kind of like Popchips. I crunched in to find that rice cakes were quite doused in caramel. They had a brittle, sugary crunch that was quite nice. It definitely didn't feel like a corn crunch, but it didn't feel like a rice crunch either, as they somehow applied the sugar in a way that it was thin enough to break easily and yet thick enough to taste really sugary. Somehow Quaker perfected the solid-yet-brittle feel of a sugar layer, an excellent texture. The taste was not like rice cakes at all, and although they didn't taste like caramel corn, they did taste quite good, with a flavor much closer to caramel corn than to rice cakes. Great!

Shop: Buy snacks at Amazon.com

Aroma: Vaguely like caramel, but not like caramel corn.



From the package
"New look! Formerly Quakes® Rice Snacks" ... "Quaker® Popped™ rice snacks are the surprisingly delicious snack with a satisfying crunch. And because they're popped and have 0g trans fat, you can feel good about your snack choice." ... "Do not heat in toaster or microwave." ... "Ingredients: Whole grain brown rice, sugar, corn (with germ removed), maltodextrin, high fructose corn syrup, salt, milk, natural and artificial flavor, soy lecithin, caramel color, sucralose, acesulfame potassium."
Share your comments on this snack here. For general snack discussion, please visit our Chip Talk forum