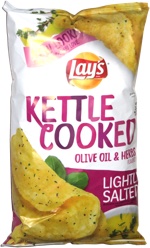 Shop for snacks: Buy Lay's at Amazon.com
Taste test: A year ago, Lay's introduced several pairs of "Flavor Swap" varieties — one existing flavor and a new one sold concurrently and often displayed on the same shelf — with the claim that one of each pair would stay and the other be eliminated, based on an online vote. Brand-new Olive Oil & Herbs was pitted against longtime flavor Sea Salt & Cracked Pepper. But this reappearing flavor added the large words "Lighted Salted" to the bag, so it would be a bit inconsistent for this to be the result of the flavor swap. Plus, they're still selling Sea Salt & Cracked Pepper.
I crunched in to find a strong crunch, but not a particularly satisfying one, as it had an odd crispness, similar to the reduced-fat versions of Lay's Kettle Cooked. The initial flavor was quite good, with a tasty mix of herbs and maybe even some cheese, but once the powder wore off, it seemed bland, as the potato flavor wasn't all that noticeable. The lower level of salt could be the reason for this.