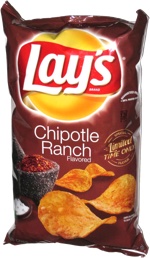 Shop for snacks: Buy Lay's at Amazon.com
Taste test: These potato chips had a dark orange glow over most of their surfaces, plus some green and red seasoning bits. The amount of seasoning varied from chip to chip, but generally there was a lot of it.
I expected a good kick of heat from the promised chipotle peppers, plus some ranch seasoning to balance it out, but when I crunched in, I didn't really notice either of those things. There was a creamy taste at first, but not particularly a ranch-like one, but I did notice a strong hint of cucumber. There was some heat in the aftertaste, so the chipotle peppers did factor in, but only after a delay. I expected something great from this flavor, and the taste delivered was something quite different and just a bit strange. Not bad, but definite not the big hit of some other recent Lay's flavors.