Lay's Cheesy Garlic Bread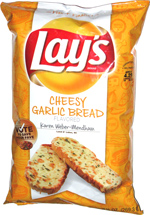 Shop for snacks: Buy Lay's at Amazon.com
Taste: These potato chips were part of a 3-flavor limited edition "Do Us A Flavor" promotion from Lay's (along with Chicken & Waffles and Sriracha). I opened the bag to find that the chips didn't have much in the way of seasoning visible on their surfaces, with a very light orange color overall and just a very few specks of black. Many of the chips had bits of skin on their edges, and some had large bubbles embedded inside the potato.
Before even tasting the chips, a couple of things struck me: 1) The bag's explanation of the flavor mentions "starving & waiting forever" at "your favorite Italian restaurant." Really? If you're routinely waiting forever and not enjoying yourself, why is it your favorite restaurant? 2) Why did they make the flavor "Cheesy Garlic Bread" rather than just "Garlic Bread"? I've eaten at Italian restaurants many times, and I've never encountered this "Cheesy Garlic Bread" that they speak of — I always thought butter and garlic were the main ingredients. The flavor description concludes, "Finally, the breadsticks come and they save your life!" Are they implying that "your favorite Italian restaurant" is Olive Garden?
OK, onto the taste of these chips. I crunched in to find a flavor that could probably be best described as "Cheesy Garlic Bread" (despite my protestations about such a thing not really existing), and it was very tasty. There was a good crispness (though not as perfect as the Sriracha flavor) and the garlic, cheese and potato mixed together quite well. The flavoring was intense and enjoyable.
This was the second of the three flavors that I tried, and although this one excelled beyond the disappointing Sriracha, it just wasn't that unusual or special of a taste, so my money's on Chicken & Waffles at this point, even though I haven't found a bag of those to eat yet.
Aroma: More cheesy than garlic on the first whiff, but after that, it did smell kind of like garlic bread.
Manufacturer: Frito-Lay North America, Inc.
Online store: Buy Lay's at Amazon.com
From the package: "Flavor Finalist" ... "Vote to save your fave" ... "You're at your favorite Italian restaurant, you're starving & waiting forever. Finally, the breadsticks come and they save your life!." ... "Try all 3 and vote!
This snack was discovered by Jeremy at Market Basket. Review published .