Kycapnkn Bite Bits with Barbecue Flavor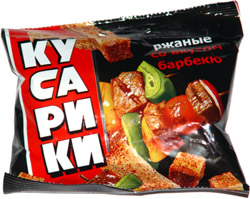 Taste: This bag contained lots of small, generally cube-shaped blocks of hardened, crunchy bread with a brown-orange colored seasoning. They looked sort of like croutons, except smaller. There was a very audible crunch upon biting in, so it was easy to hear when anyone else in the room was crunching into one of these. The texture was not bad. People generally didn't like the taste, and some disliked it quite a bit. It was supposed to be a barbecue taste, but it sure was an odd mix of seasonings. One of our tasters said, "They taste like a discount store smells." Beth also said, "Pork rinds taste like ice cream compared to these things."
Shop: Buy snacks at Amazon.com
Aroma: Kind of weird, not much like barbecue.