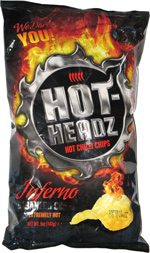 Shop for snacks: Buy potato chips at Amazon.com
Taste test: These potato chips had very wiggly shapes and a brownish look to them, sort of like dark Russet chips, except that the much of the darkness came from a heavily applied seasoning. After reading the heat hype on the bag, we were expecting some extremely serious habanero heat.
Crunching into the first chip, there was a great crispness, nice crunch and really tasty mix of potato and seasonings — but not any heat just yet. The heat arrived in the aftertaste, as it gradually increased in intensity to a reasonably strong level, with a very nice habanero burn. The heat was indeed hotter than the Chipotle Mustard chips from Hot-Headz, but still, the warnings on the bag were a bit overblown, as we've had several chips that were quite a bit hotter, and these didn't bring anybody to tears.