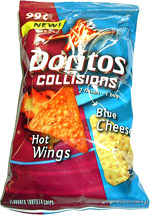 Shop for snacks: Buy Doritos at Amazon.com
Taste test: This new variety of Doritos combined two different flavors of chips in the same bag. In the interest of science, we did three separate tastings: each flavor individually, and then combined.
The Blue Cheese chips really did taste like blue cheese dressing. It sort of reminded us of the Cool Ranch flavor, but then the blue cheese kicked in. THe flavor comes in a wave, so if you're not a fan of blue cheese, don't worry, it's not a lingering flavor.
The Hot Wings chip was not overpoweringly hot at first, but the burn did kick in after a certain point. Since these are Doritos, it was not super hot, so we didn't have to grab beverage to cool down.
The real fun was when we ate the chips together to create that a hot wings and blue cheese flavor. In this case, there was a lot of flavor playing tricks with the tongue, as there was a wave of blue cheese and some hotness.
In the end, we liked them better as separate flavors, rather than collided together.