Boxerchips Savagely Salted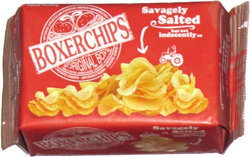 Taste: These chips came in a small cardboard box (enclosed in a foil wrapper), and with the "Savagely Salted" name, we were expecting — at a minimum — an above-average level of salt, but preferably far more than that. The box was filled to the top with lots of smallish chips, most of them broken, with lots of dark skin on the edges. What stood out most about the chips themselves was how crunchy they were. Very, very crunchy. The potato taste was good too, with a nice kettle-cooked flavor, like a baked potato. But as for salt, they were pretty much average, nothing more. Would be nice for one of the chip companies to sell an extra-salty chip that delivers.
Shop: Buy potato chips at Amazon.com
Aroma: Good potato smell.