Boxerchips Honey & English Mustard Potato Crisps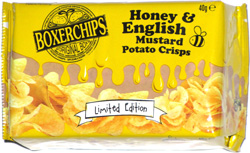 Taste: These potato chips broke with the usual convention of coming in a bag, as the foil wrapper contained a thin cardboard box, which folded open to reveal that it was quite filled with chips. The chips were on the small side, with lots and lots of broken chips and small pieces. The ones that weren't broken were very wiggly or folded over. There was lots of skin around the edges of the light yellow chips, with a light yellow color generally and some tiny white bits of seasoning powder. I grabbed a few chips and found that the chips were extremely crunchy, far more so than your typical kettle-cooked potato chip. They tasted good, but the honey mustard seasoning was on the subtle side. I could hardly notice any honey at all (maybe just some minor sweetness) but there was a nice hint of mustard, mostly in the aftertaste. Pretty good.
Shop: Buy potato chips at Amazon.com
Aroma: Not much. Couldn't smell any honey or mustard.