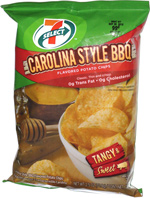 Shop for snacks: Buy potato chips at Amazon.com
Taste test: This was one of in series of three barbecue potato chips flavors sold at 7-Eleven.
I opened the bag to find that there was a strong orange glow to the chips, with a light coating of dark seasoning powder distributed fairly evenly. The bag promised "tangy & sweet" and when I crunched in, my first thought was that the taste was a lot like Utz's Carolina BBQ chips. But when I though it through a little more, I realized that the difference was that there wasn't much of the vinegar taste that Utz delivers with those.
The flavor was not overly sweet, but quite nicely sweet, and although the tanginess was fairly minimal at first, it did grow a bit stronger in the aftertaste. Very good!