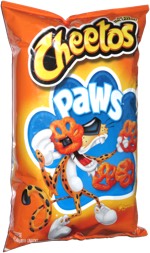 Shop for snacks: Buy Cheetos at Amazon.com
Taste test: We've seen paw-shaped Cheetos several times before, including in a Mexican version, an Israeli version and in the defunct Cracker Trax varieties, but this one marked the first time that Paws were found in the flagship American Cheetos bag.
Each paw measured about 1-1/2 inches across, with four toes surrounding the center of the foot. There was a nice, very bright orange color, with some yellow showing through in places where the cheese powder coverage was thinner. I crunched in to find a crisp and fairly soft texture, with an excellent helping of cheddar cheese. Very cheesy! It was hard not to eat many pieces in rapid succession.
The bag was filled about 60% of the way, so more would have been better, but there were still quite a few Paws in the large bag.