Rice Krispies Treats Fun Sheet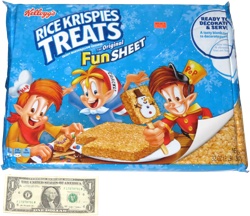 Taste: This giant Rice Krispies Treat was the largest snack we've ever reviewed, measuring an incredible 15 inches across by 12 inches high for 180 square inches of Treat. It was also about an inch thick, and 180 cubic inches isn't too shabby either. One side of the huge Treat had a thin white piece of cardboard inside the wrapper to provide some support.
Apparently this iteration of Rice Krispies Treats was intended to be adorned with edible decorations, but there's no law saying we can't just eat it as is, right out of the package, so I peeled open the wrapper and cut off pieces with a knife for immediate consumption. The cardboard sheet worked great as a cutting board. Once cut, the pieces had the usual bendy feel of Rice Krispies Treats, and with a virtually unlimited supply, it was hard to stop eating them. It wasn't as good as homemade, but it was still quite good. I thought the texture was actually better than the much smaller packages of individually cut pieces.
The label said that the whole thing weighed 2 pounds, but it sure left lighter than that in my hand. It also felt huge. I doubt that these are generally available for the $2.88 that I paid, but for me, it was a great value too. If I ever start to consider getting one of those ridiculous giant laptops, I might just get another Fun Sheet instead.
Shop: Buy snacks at Amazon.com
Aroma: The usual mild marshmallow smell of Rice Krispies Treats.