Yummies Milk Chocolate Potato Chip Clusters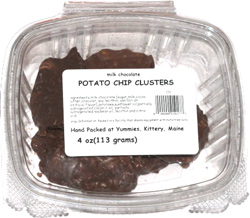 Taste: When I bought this package, I assumed (incorrectly) that it contained chocolate-covered potato chips. If I had read the package more carefully, I might have paid more attention to the word "clusters" ... and probably still not have known what that meant until I ate some. It turned out that these large candies (the package contained 6 of them) were primarily chocolate, with bits of broken-up rippled potato chips embedded inside. It was an even higher chocolate-to-potato ratio than the usual chocolate-covered potato chips, but nobody's complaining here, because they were really, really good. The taste was primarily from the really good milk chocolate, but the bits of potato chip added a bit extra to the taste and texture. Great!
Shop: Buy potato chips at Amazon.com
Aroma: Great milk chocolate smell.