Talanda Dark Chocolate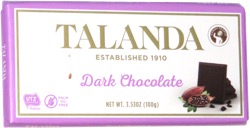 Taste: This large dark chocolate bar from Poland (via IKEA!) had the same 5x3 grid of rectangular sections as the milk chocolate version, with the top of the thin sections alternating between a pattern and none at all. The sections were fairly easy to break off, yet somewhat solid to bite into. I'm not a huge fan of dark chocolate, but this kind was reasonably good, as it was fairly sweet and had a slightly creamy feel. It did take some time to melt in the mouth.
Shop: Buy snacks at Amazon.com
Aroma: Good dark chocolate smell.